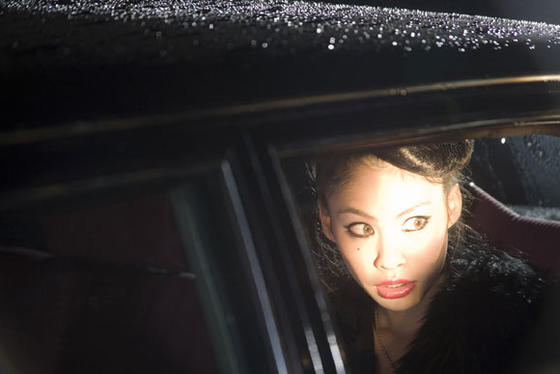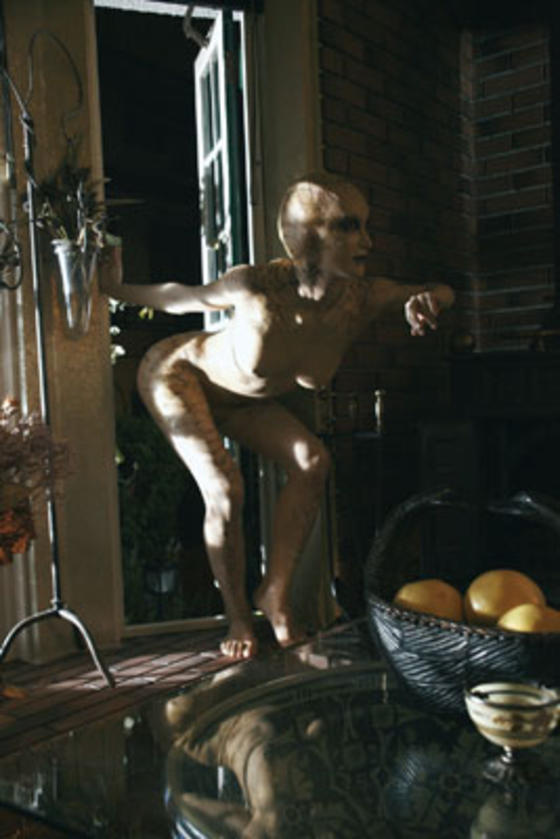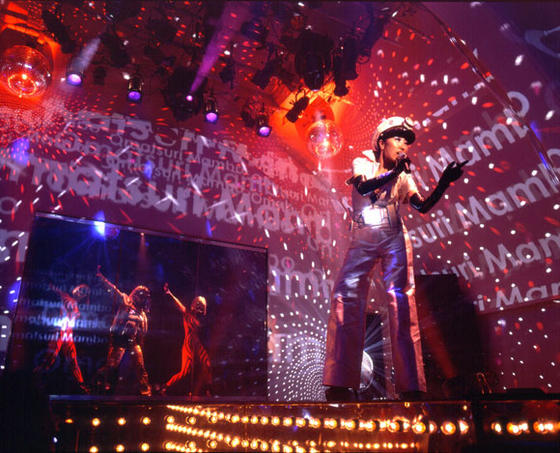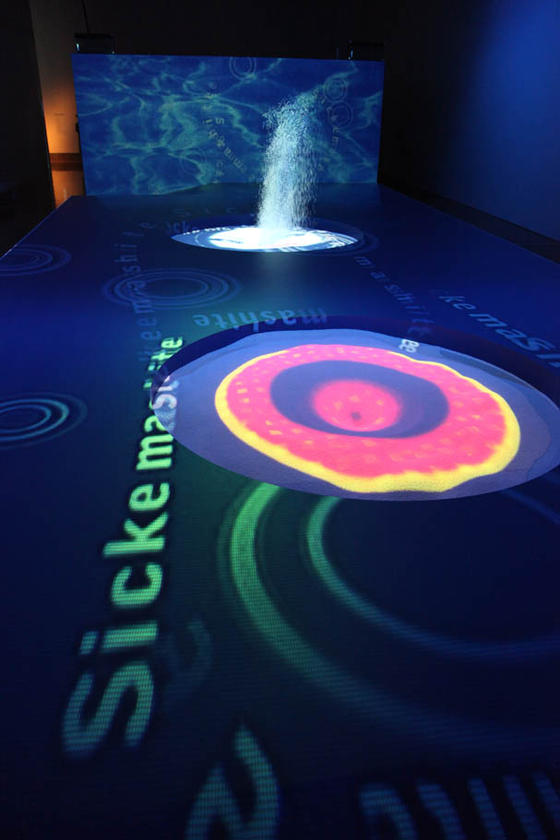 SickeTel - KyupiKyupi and Ishibashi
SickeTel - KyupiKyupi and Ishibashi
18 July 2010 - 3 November 2010
10:00 - 18:00 (No admittance after 17:30)
Organized by Marugame Genichiro-Inokuma Museum of Contemporary Art, The MIMOCA Foundation
Subsidized by Japan Arts Fund, Japan Foundation for Regional Art-Activities
Cooperation provided by RYU Inc., Eager Co.Ltd., AKI Co., Ltd., J.U.R., Mileruntech co.Ltd., SSM Co., Ltd., Fish Heads Inc.
Admission: Adults ¥950, Students (college) ¥650, Children (0 year to high school) free
Ticket valid for admission to Permanent Collection.
Formed in Kyoto in 1996, the visual + performance unit Kyupi Kyupi currently consists of Yoshimasa Ishibashi, Mazuka Kimura, and Koichi Emura. As unit director, Ishibashi undertakes moving image works and directs the unit's live performances, while Kimura handles spatial design and 3D media art, and Emura, visual design and animation. Kyupi Kyupi has attained international renown through frequent appearances in exhibitions in Japan and abroad, including "Visions of the Body" (National Museum of Modern Art, Kyoto) and the Venice Biennial, not to mention a solo exhibition at Palais de Tokyo / Site de création contemporaine in Paris. By alternately exhibiting moving image installations at art museums and staging performances integrated with moving image works at halls and cafes, they commute freely between art and entertainment, interweaving their involvements in these two territories.

SickeTel—Kyupi Kyupi and Ishibashi will be the first large-scale exhibition at a Japanese museum of the works of Kyupi Kyupi and Yoshimasa Ishibashi, who produces media content as a director of films ("I Wanna Drive You Insane") and TV programs ("Oh! Mikey"). The exhibition will focus on new creations, including recent moving image works by Ishibashi and a large-scale installation by Kyupi Kyupi created for the exhibit spaces of this museum. Various related programs are also scheduled, including film showings, workshops, and a Kyupi Kyupi live performance. As the opening salvo of Kyupi Kyupi's return to active performing and exhibiting, the exhibition promises to immerse visitors in their dazzling world of moving imagery.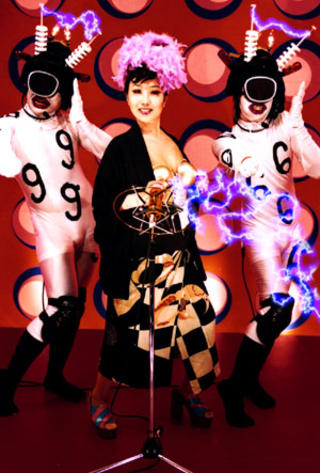 Kyupi Kyupi
visual + performance unit
1996-

[Current Members]
Yoshimasa Ishibashi
Direction, moving image
1968 Born in Kyoto

Mazuka Kimura
Spatial design, 3D media art
1969 Born in Nara
1994 B.A., Sculpture, Kyoto City University of Arts
1999 Organized MAZUKA 3D WORKS

Koichi Emura
Visual design, animation
1961 Born in Osaka
1984 B.A., Visual Design, Kyoto City University of Arts
2005- Associate Professor at Kyoto Saga University of Arts

[Selected Exhibitions]
2010
(solo) SickeTel - Kyupi Kyupi and Ishibashi, Marugame Genichiro-Inokuma Museum of Contemporary Art, Japan
2008
THE KYOTO MASH-UP, Sfera, Kyoto, Japan
2006
Trial Balloons, Museo de Arte Contemporáneo de Castilla y León, Spain
Urban Fetishes, Tanzquartier Wien, Vienna, Austria
Inéditos 06, La Casa Encendida, Madrid, Spain
2005
Visions of the Body 2005, Seoul Museum of Art, Seoul, Korea
Experimenta. Aural Gazing – Japanese audio-vision, Australian Centre for the Moving Image, Melbourne
2003
La Biennale di Venezia, 50. Esposizione Internazionale d'Arte, Arsenale, Venice, Italy
(solo) Kyupi Kyupi The Wide Show, Palais de Tokyo / Site de création contemporaine, Paris, France
2002
JAM: Tokyo-London, Tokyo Opera City Art gallery, Japan
ASIAN VIBE, Espai d'art contemporani de Castelló, Spain
2001
JAM: London -Tokyo, Barbican Art Gallery, London, U.K.
Le Tribu' dell'arte, Galleria Comunale d'Arte Moderna e Contemporanea, Roma, Italy
Looking at You: Kunst Provokation Unterhaltung Video, Kunsthalle Fridericianum, Kassel, Germany
2000
Let's Entertain: Life's Guilty Pleasure, Walker Art Center, Minneapolis, U.S.A.; Centre Georges Pompidou, Paris; Portland Art Museum, U.S.A.; Museo Rufino Tamayo, Mexico City, Mexico; Kunstmuseumm, Wolfsburg, Germany; Miami Art Museum, U.S.A.
(solo) Kyupi Kyupi 1million Premium, White Cube Gallery, Osaka, Japan
(solo) Kyupi Kyupi 1 million Super Deluxe, KPO Kirin Plaza Osaka
TWILIGHT SLEEP, Istituto Giapponese di Cultura , Rome, Italy
Process/Reprocess: Japan and the West, Leslie Tonkonow Artworks + Projects, New York, U.S.A.
Pusan International Contemporary Art Festival, Busan Museum of Art, Korea
2000 Taipei Biennial: the sky is the limit, Taipei Fine Arts Museum, Taiwan
1999
Visions of the Body, National Museum of Modern Art, Kyoto; Museum of Contemporary Art Tokyo
Genaration Z, P.S.1 Contemporary Art Center, New York
Game Over, WATARI-UM Museum, Tokyo
1998
So What / Donaiyanen!, Ecole nationale superieure des Beaux-Arts, Paris

[Selected Performances]
2010
Kyupi Kyup Live. Sicke Monica, Marugame Genichiro-Inokuma Museum of Contemporary Art
2004
Kyupi Kyup Live Kayo Show Lucky Come Come, Café Indépendants, Kyoto
Kyupi Kyup Live Kayo Show Frankenstein-no Hanayome, Café Indépendants
Kyupi Kyupi Grand Kayo Show CABAROTICA, spiral hall, Tokyo
2003
Kyupi Kyupi Grand Kayo Show Super Mega Hits, Art Complex 1928, Kyoto; Palais de Tokyo / Site de création contemporaine
Kyupi Kyupi Live. CABAROTICA (Tate & Egg Live), Tate Modern, London
Kyupi Kyupi Grand Kayo Show CABAROTICA, Art Complex 1928
2000
Kyupi Kyupi Jamboree Super Deluxe, KPO Kirin Plaza Osaka
1999
Kyupi Kyupi 2nd Live. Enka Mania, Café Indépendants
Kyupi Kyupi Live. Kayo Show, Restaurant and bar VOLGA, Tokyo
Kyupi Kyupi Jamboree FROZEN CHIRISTMAS, Café Indépendants
1998
Kyupi Kyupi 1st Live. Kayo Show, Café Indépendants
Yoshimasa Ishibashi

1968 Born in Kyoto
1993 Studied filmmaking at Royal College of Art in London as exchange program
1994 M.A., Conceptual and Media Art, Kyoto City University of Arts

[Selected Works]
Movie I Wanna Drive You Insane (1997)
Director, screenwriting, producing, art direction, camera, editing, performing

TV Program Vermilion Pleasure Night (2000)
Director, screenwriting, producing, camera, editing, music

TV Program Oh! Mikey (2002-)
Director, screenwriting, producing, camera, editing

Movie Mirocrose (upcoming)
Director, screenwriting, producing, camera, editing