Marugame Genichiro-Inokuma Museum of Contemporary Art (MIMOCA) will celebrate its thirtieth anniversary in 2021. Under the concept of "an art museum as a health resort for the spirit," it has been committed from its outset to exhibitions and other locally focused cultural activities. Artist Genichiro Inokuma (1902–1993) considered it important that the museum play a role that would offer healing and spiritual nurture to its visitors. Focusing on the story leading up to the museum's founding as well as on its distinguishing features, we present a two-part report on the "health resort for the spirit" as Inokuma envisioned it.
In February 1987, two officials of the city of Marugame in Kagawa prefecture visited Inokuma at his studio in Tokyo proposing that a museum dedicated to him be founded in their city. That day (February 15, 1987), he wrote in his diary:
"The idea of a museum for me! . . . I am a lucky man."
"I mentioned the difficulties of such a museum but, if they still wanted to do it, I talked of things they should keep in mind."
"This is such a delightful and happy idea. I must think about this carefully."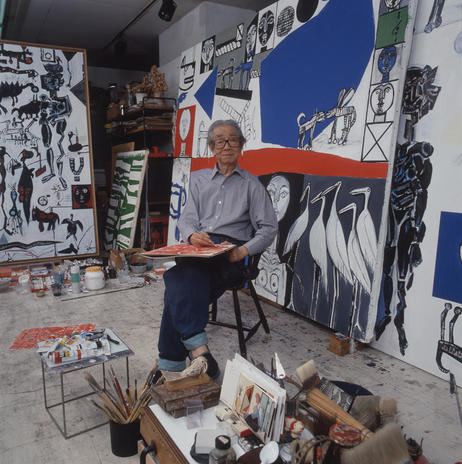 The Great Seto Bridge--the first bridge to connect Honshu and Shikoku islands--was to open the following year (1988) and the new Takamatsu Airport was to scheduled to start operations in late 1989. The city of Marugame, located close to the bridge, was aiming to build a unique museum that would play a central role in local community building efforts. The officials asked Inokuma for his cooperation, for his ties with the city were deep. He grew up there and graduated from the prewar Marugame Middle School (now Kagawa Prefectural Marugame High School).
A few months later, Marugame mayor Shigetoshi Horike visited Inokuma at his home in Tokyo. In response to the mayor's offer to build an art museum in his name, Inokuma responded:
"I accept your offer. Let's build a museum of a kind found nowhere else. I will gladly do my best to help. ... I hope you will build a good, full-fledged one."
Inokuma decided to donate his works to the city of Marugame, and in October that year the city announced that it would build the museum as one of its projects commemorating the 90th anniversary of the municipality's founding.


In most cases a museum honoring an individual artist is built after the artist dies, but Inokuma was energetic and active at age 84. Fortunately, he was able to be closely involved with the establishment and planning of the museum named after him from the outset. He took a close interest in everything, from the concept, location, and architecture to the furniture and even the restroom signs. In response to Inokuma's enthusiasm to "make Marugame a place Japan can be proud of," the city respected his ideas and consulted with him repeatedly, aiming to build a museum both sides agreed upon. The things he "thought about carefully" are the distinguishing features of MIMOCA today and the source of fascination for many.
The features of the museum will be introduced in the second part of the report.
*1 Shigetoshi Horike, "Inokuma sensei wa Bijutsukan ni iru" (Inokuma-sensei Is in the Museum," Kyanbasu o koeta gaka Inokuma Genichiro (Genichiro Inokuma, the Artist Beyond the Canvas), p. 126. Shikoku Shimbunsha, 1994.
*2 "Inokuma Genichiro-shi no kinen bijutsukan JR Marugame ekimae ni kensetsu e" (A Museum in Honor of Genichiro Inokuma, to Be Built in Front of JR Marugame Station), Shikoku Shimbun, October 25, 1987 issue, p. 23.
*3 Torao Kono, "Tsuibo" (Reminiscences), Kyanbasu o koeta gaka Inokuma Genichiro (Genichiro Inokuma, an Artist Who Goes Beyond the Canvas), p. 108. Shikoku Shimbunsha, 1994.
Reproduction of photos from within this post is prohibited.