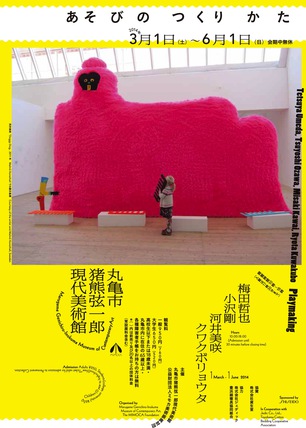 Date: Sat. 1 March - Sun. 1 June 2014
Hours: 10:00 - 18:00 (Admission until 30 minutes before closing time) Open Everyday
Admission: Adults ¥950, Students (college, university) ¥650, Children (0 year to highschool) free
*Ticket valid for admission to Permanent Collection.
What is 'play' for human beings? Not only to receive ready made forms of entertainment but try using your own actions or ideas to change the banal into the fertile. Unwinding mentally and physically with contemporary art may be one way to achieve this, and at the same time making your heart flutter.
【Participating Artists】
Misaki Kawai (Born 1978 in Osaka / New York)
Ryota Kuwakubo (Born 1971 in Tochigi / Gifu, Tokyo)
Tsuyoshi Ozawa (Born 1965 in Tokyo / Saitama)
Tetsuya Umeda (Born 1980 in Kumamoto / Osaka)