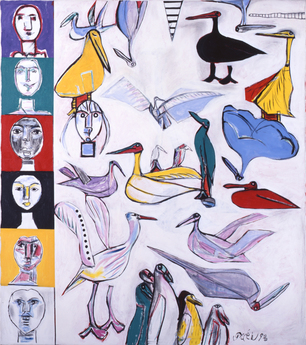 Date: Sat. 3 Oct 2015 - Sun. 6 Dec 2015
Hours: 10:00 - 18:00 (Admission until 30 minutes before closing time) Open Everyday
Admission: Adults ¥950, Students (college, university) ¥650, Children (0 year to highschool) free
*Ticket valid for admission to Permanent Collection.
Genichiro Inokuma (1902-93) enjoyed drawing pictures since childhood and painted prolifically with great energy until just before his death at the age of 90. His works, many of which surprise the viewer, are brimming with a cheerfulness that makes us smile, an aspect perhaps reflecting his strong curiosity and his ability to thoroughly enjoy himself, no matter what he did. This exhibition features works ranging from childhood sketches to large-scale paintings of his later years around a core of artworks chosen by Inokuma himself for the opening exhibition of this museum in 1991. In our galleries, we place warmly affectionate impressions and anecdotes related to Inokuma and his work, received from numerous people. With these as our "exhibition guide," we present the entire scope of Inokuma's paintings and pictures. Let us all—whether Inokuma newcomers or longtime enthusiasts—join in sharing our perceptions (impressions) of works of captivating charm and discovering little known aspects of Genichiro Inokuma the man. Together, we can come to know his works and like them even more.