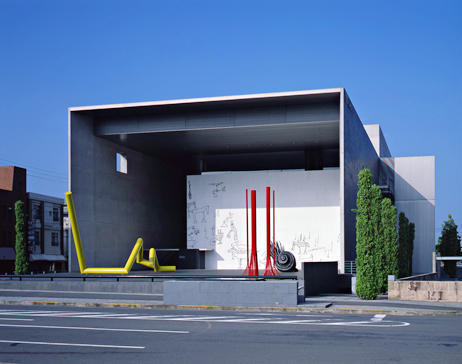 Marugame Genichiro-Inokuma Museum of Contemporary Art
The Marugame Genichiro-Inokuma Museum of Contemporary Art (MIMOCA) was opened in 1991 with the full cooperation of the artist Genichiro Inokuma, who was closely associated with the city of Marugame, as one of Japan's most unique "station-front museums." While honoring Inokuma's output as an artist, the museum was intended to be a convenient and open place that would be comfortable and relaxing to visit while also promoting art and culture. In addition to housing and displaying a permanent collection that contains some 20,000 of Inokuma's works, donated by the artist himself, the museum stages several special exhibitions a year focusing primarily on contemporary art. Moreover, the museum is actively involved in programs such as lectures and concerts, and workshops intended to foster sensitivity and creativity among children.
On the founding of the Museum
I am overjoyed that this museum has been built in Marugame, the place where I spent my youth and which I have many strong memories of. Specializing in contemporary art, the museum is one of the most unique in Japan and as it has been realized with the help of all the citizens of Marugame, I look forward to the further spread of culture in the city as a whole."
Genichiro Inokuma, 1991