Shuttle bus connecting MIMOCA and the Shikoku Mura Museum
A shuttle bus will run between MIMOCA and the Shikoku Mura Museum, a journey that is usually a little inconvenient, requiring bus/train transfers and walking. The bus service will instead allow passengers to enjoy both museums with ease. This is a trial service designed to make two of the many cultural institutions dotted around Kagawa Prefecture more accessible in a single outing.
◎Days in service
October 14 (Sat)
October 29 (Sun)
November 19 (Sun)
December 2 (Sat)
◎Schedule
| | |
| --- | --- |
| 11:00 | Departure from MIMOCA |
| 12:15 | Arrival at Shikoku Mura Museum |
| 12:45 | Departure from Shikoku Mura Museum |
| 14:00 | Arrival at MIMOCA |
| 14:15 | Departure from MIMOCA |
| 15:30 | Arrival at Shikoku Mura Museum |
| 15:45 | Departure from Shikoku Mura Museum |
| 17:00 | Arrival at MIMOCA |
◎How to use the shuttle
Bus fare


One way: general ¥500, children

(ages 6-12)

¥200, pre-school children free.


* Entrance fees to MIMOCA and Shikoku Mura Museum not included.

How to use the shuttle

Purchase a ticket at the MIMOCA or Shikoku Mura Museum reception desk.
Reservations not necessary. Be at the MIMOCA or Shikoku Mura Museum temporary shuttle bus stop by the scheduled departure time.

Boarding is on a first-come, first-served basis

(if seats are full, passengers may be asked to wait for the next shuttle)

.
Schedules are subject to change depending on traffic conditions.

Inquiries regarding
the shuttle bus


(through December 2)

:
Anabuki Travel

(Takamatsuu)


Tel. 087-826-7557

(weekdays 10:00–12:00/13:00–17:00)




info[at]takamatsuu.com
Tour highlights
Marugame Genichiro-Inokuma Museum of Contemporary Art

(MIMOCA)
Genichiro Inokuma felt that a museum should be a place where one could casually drop in, view works of art in attractive spaces, and be stimulated in new, fresh ways that gave sustenance to the soul. He described art museums as "hospitals for the heart" in the belief that this was what MIMOCA too should be. With the cooperation of Inokuma in every aspect, MIMOCA opened on November 23, 1991. As well as showcasing a permanent collection of some 20,000 works either by Genichiro Inokuma, or collected by him and integral to his life, this stunning museum designed by architect Yoshio Taniguchi and situated directly in front of JR Marugame Station holds special exhibitions with a contemporary art focus, in accordance with Inokuma's fervent wish that MIMOCA be a true contemporary art museum with an ongoing commitment to presenting the new. MIMOCA also offers a range of fun activities, including workshops designed to foster children's art sensibilities and creativity, and various events to facilitate interaction and partnership.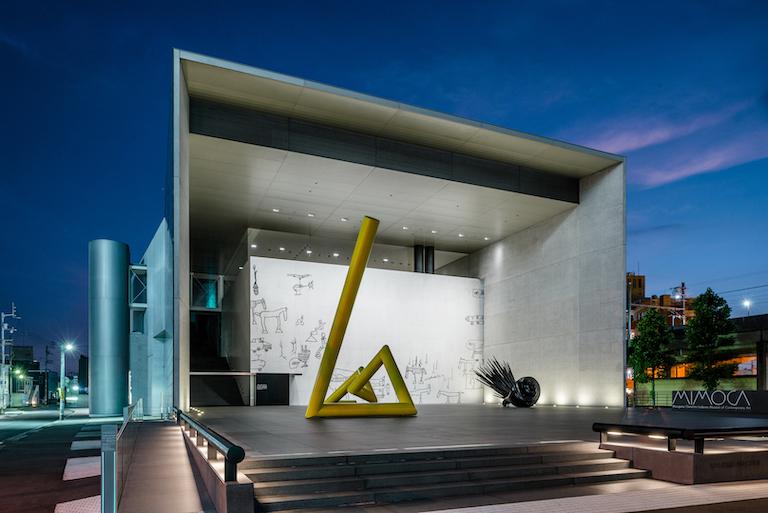 ---
◎Shikoku Mura Museum
This open-air museum situated in extensive grounds at the foot of Mt. Yashima gives visitors the opportunity to experience for themselves 33 restored historical buildings dating from the Edo through to the Taisho periods (between 1603 and 1925) including private houses, a sugar mill, village kabuki theater stage, rice storehouses, and a soy sauce brewery, all relocated here from the four prefectures of the island of Shikoku. Each was actually lived in or used by people, and their knowledge, labor, and prayers suffuse each pillar, beam, and everyday article on display. A stroll through the natural surroundings, lovely in every season, is accompanied by the soothing sounds of birdsong and waterfalls, perhaps revealing something lost from modern life. The village also includes attractions of such diverse interest as the Shikoku Mura Gallery, designed by Tadao Ando (with displays including works by Inokuma), and the Shikoku Mura Cafe, housed in an old Ijinkan (foreign residence) transported from Kobe.
https://www.shikokumura.or.jp/
◎Shikoku Mura Museum and Genichiro Inokuma
The Shikoku Mura "village" located at the foot of Mt. Yashima began in 1976 as a museum of traditional houses, with Inokuma also attending the opening ceremony. Delighted by the many old homes, through his personal connections Inokuma facilitated the commissioning of Junzo Yoshimura to design the restaurant and restaurant owner's house

(now used as a guest house)

situated below Shikoku Mura. Yoshimura was an architect that like Kenzo Tange, collaborated with Inokuma on several occasions, and it is not widely known that it is Inokuma to whom we owe the precious Yoshimura buildings still standing in Kagawa. In 2022 Shikoku Mura became "Shikoku Mura Museum," a name taken from a message Inokuma sent for its opening.