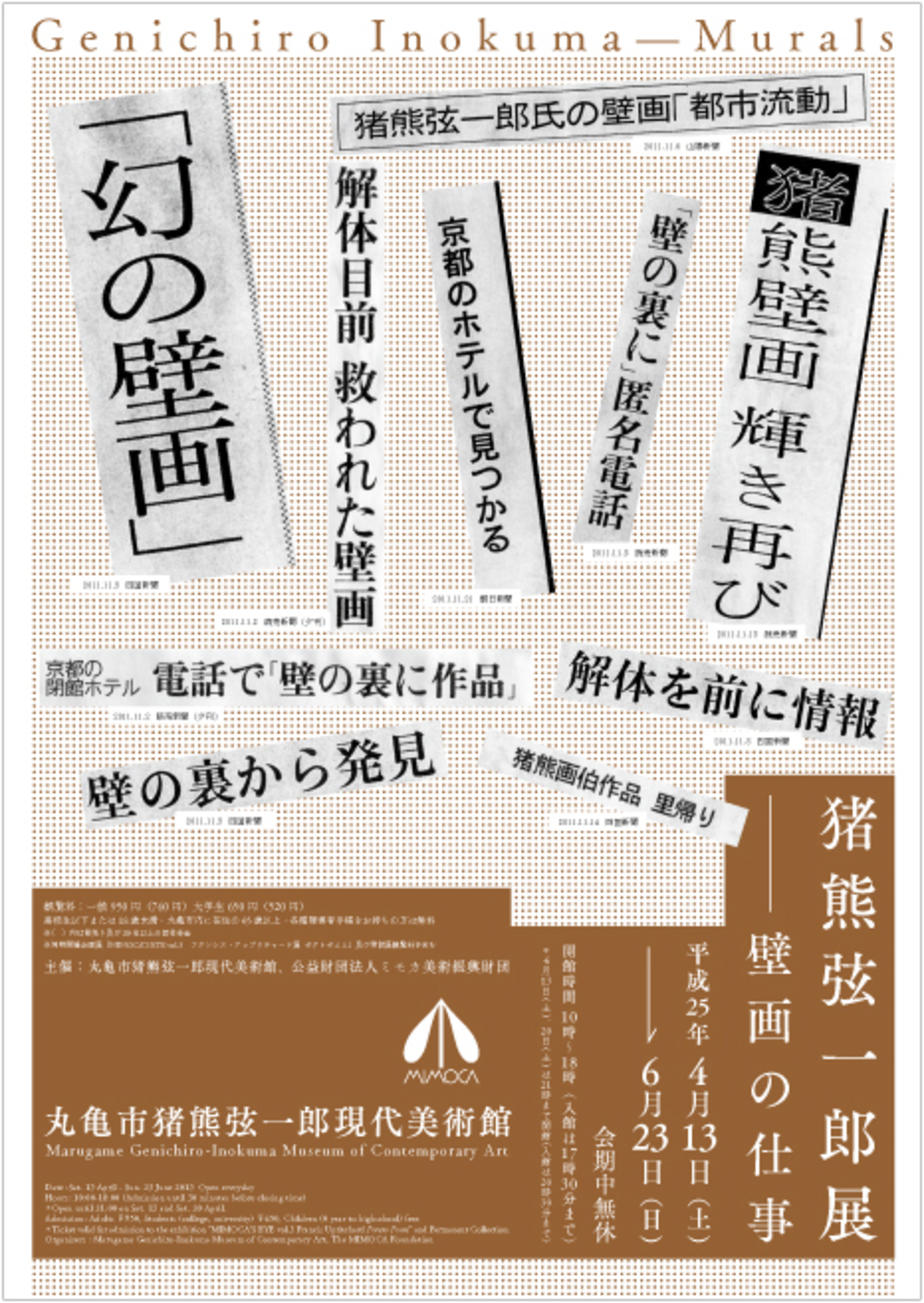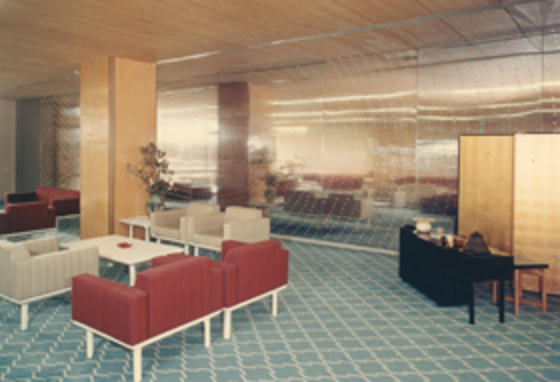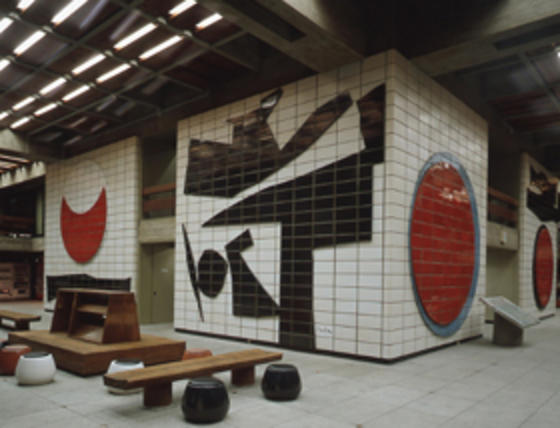 Genichiro Inokuma
Murals
Genichiro Inokuma
Date: Sat. 13 April 2013 - Sun. 23 June 2013
Hours: 10:00 - 18:00 (Admission until 30 minutes before closing time) Open Everyday
*Open until 21:00 on Sat. 13, Sat. 20 April.
Organized by Marugame Genichiro-Inokuma Museum of Contemporary Art, The MIMOCA Foundation
Admission: Adults ¥950, Students (college, university) ¥650, Children (0 year to highschool) free
*Ticket valid for admission to the exhibition "MIMOCA'S EYE vol.3 Francis Upritchard: Potato Poem" and Permanent Collection.
In summer 2011, a mural by Genichiro Inokuma (1902-1993) was found at a building demolition site near the Kamogawa River in Kyoto. The building was a hotel of long-standing, Hotel Fujita Kyoto, which had ceased operations in January of the same year. The mural, Fluid City (1969), had been installed in the hotel's lounge.
Hotel Fujita Kyoto opened in 1970 on the occasion of the Expo'70. The building's architect, Junzo Yoshimura, asked Inokuma to design a mural. When the hotel was remodeled in 1982, however, a new wall was installed before the mural, which became hidden from sight. After announcement was made of the building's impending demolition, the hotel's owners received an anonymous phone call informing them of the mural's existence. The mural was then safely removed from the demolition site and gifted, thereafter, to Marugame City and restored at this museum.
This exhibition will publically display the mural for the first time since its restoration. A mural of large scale, some 3m high by 15m wide, it consists of chrome-plated steel panels punched with 3,000 to 4,000 holes. The panels have a colored acrylic plate backing. When illuminated from behind, the work displays a colorful geometric pattern of lines. Both in terms of materials and techniques, the mural is an artwork of extreme rarity in Inokuma's oeuvre.
Using photo panels and other means, the exhibition will also display other murals created by Inokuma. "A painting is not something one should keep to oneself," he felt. "It should bring joy and inspiration to as many people as possible" (from a Genichiro Inokuma talk, "Concerning Modern Art," Oita Godo Shimbun, p. 2, January 20, 1953). On this basis, we invite you to enjoy to the fullest the public art of Genichiro Inokuma, who undertook a great many murals.