The exhibit "In Marugame – At the Moment – Three Artist Collectives" runs from Saturday, December 18, 2021 through Monday, March 21, 2022 at the Marugame Genichiro-Inokuma Museum of Contemporary Art (MIMOCA).
This is the second part of our interview with one of the featured artist groups Nadegata Instant Party, consisting of Tohru Nakazaki, Daisuke Yamashiro, and Tomoko Noda.
Picking up where we left off, we asked how the group's installation "HOME STAY HOME" came to be and the insights they gained through the project.
Interviewed and written by Mio Subana
Photos by Shintaro Miyawaki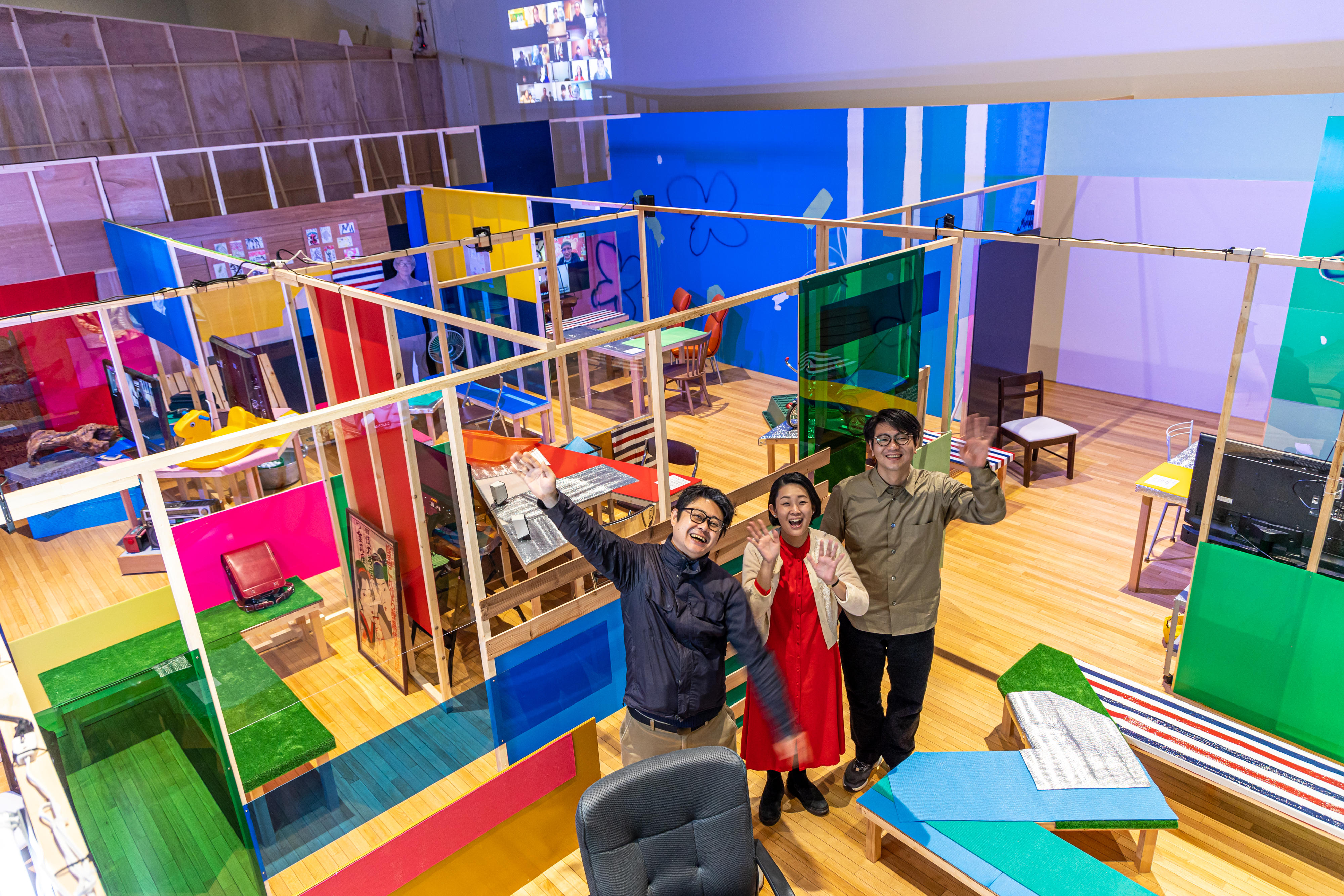 --After deciding the hosts in the city of Marugame, how did you choose the homestay guests?

Noda: We took note of the personalities of the hosts when they introduced themselves in the advance orientation session. Then we paired them with former Nadegata project collaborators--scattered across nearly all 47 prefectures in Japan--whom we thought would be a good match.
Key factors included the host and guest's occupations and their familiarity with online communication. You, Ms. Subana (the interviewer), seemed to be a frequent Zoom user. That's why we paired you with art students who were in the process of kiln-firing at a studio. Quite an interesting combination.

--Yes, the two students from Yamagata. We had a very good time as I hardly ever get to interact with art students, and previously I knew nobody from Yamagata. My father, who also took part in the project, seemed to have had fun, too.
But I wonder how the participants felt about participating in a virtual homestay and their experience being made into an art installation. As far as the completed footage is concerned, nobody looked too nervous about joining an art project, including me and my guests.

Yamashiro: After interacting for an hour or so, people forget that they are being filmed. It must feel very strange to see their random conversations--interactions they had at their home, in front of their monitor, and without being too conscious about us recording them--on display at the exhibition venue. They might have gained a sense of participation had they been able to come to the museum, meet an artist, and share the process of creating art. But for this homestay project, the participants stayed in their homes. The standout feature of our work is how we captured the guests' and hosts' spaces of everyday life, instilled it in our installation, and brought it directly over to MIMOCA.



Daisuke Yamashiro

Nakazaki: I edited footage of the guests and hosts virtually having dinner together, and, on the next day, forming lines that read "HOME STAY HOME" outside MIMOCA for a balloon release event. I had a good chuckle out of each of the roughly three-hour-long videos documenting the 28 homestay pairs. I could only meet the hosts for a day as I was absent from the in-person orientation, but I now feel like they are my long-time friends, having been through their three-hour footage.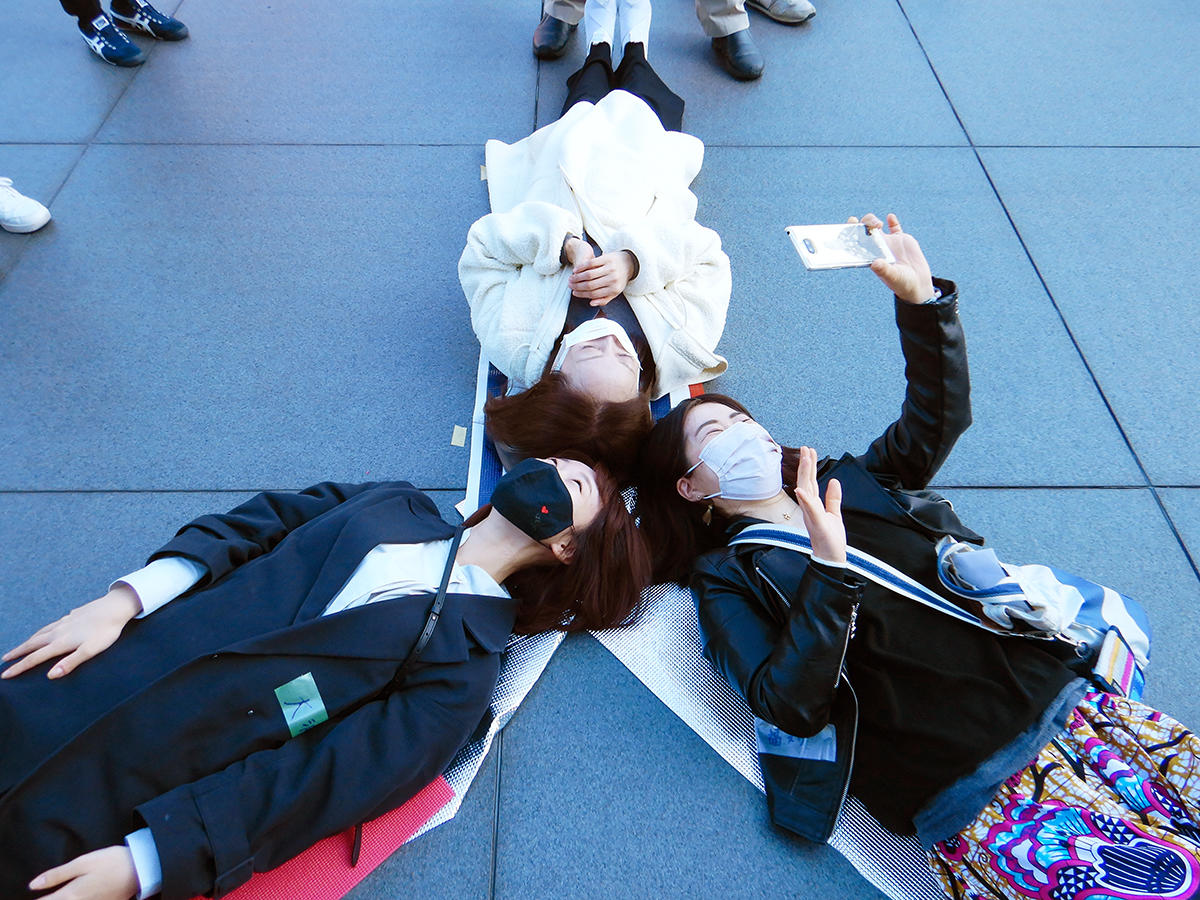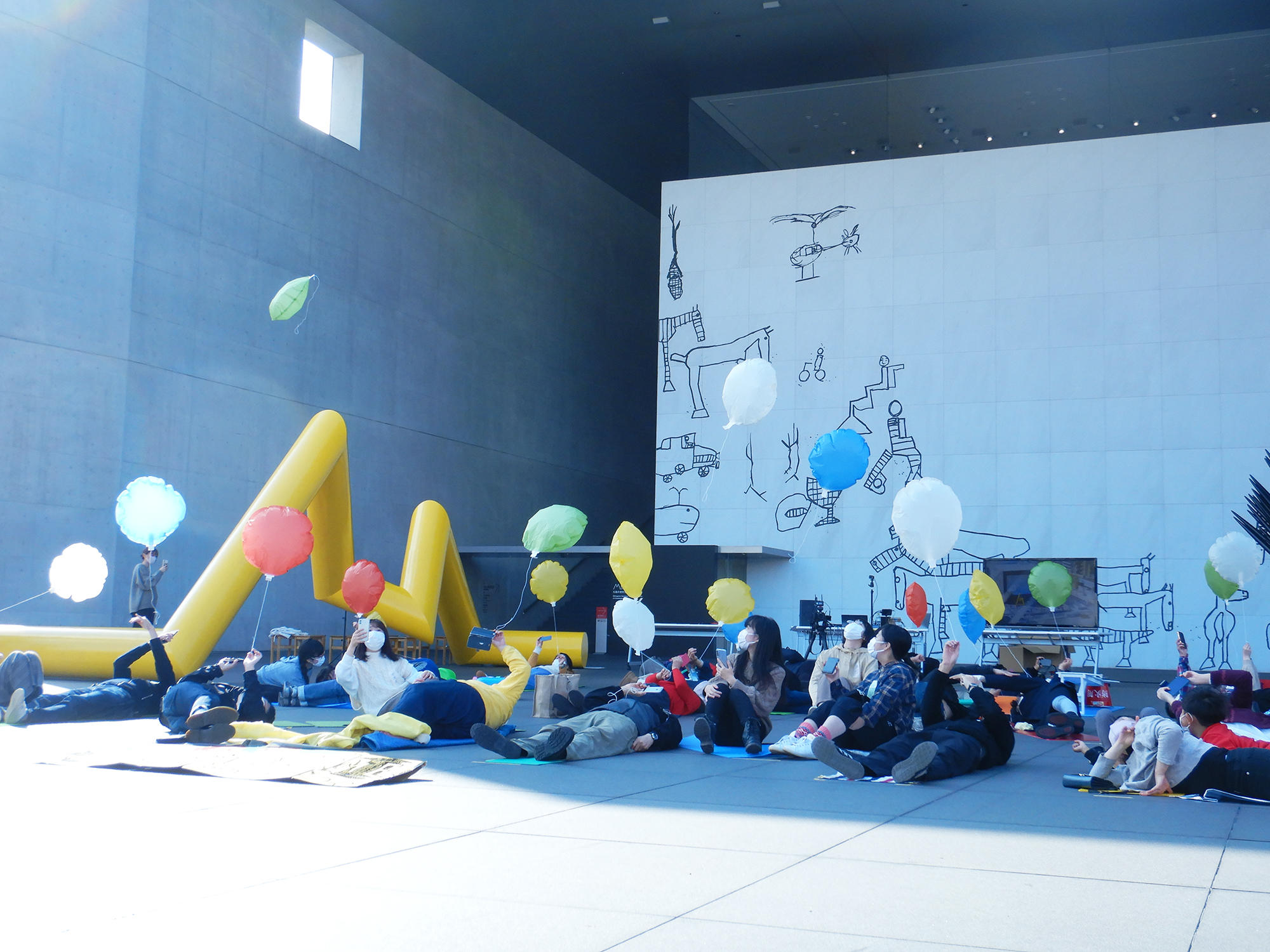 Scenes from the virtual homestay (Photo credit: MIMOCA staff)

--The editing work is excellent. Alternating between scenes of the homestay at each home, the videos perfectly capture interesting moments.


Nakazaki: Eight recordings are on display, each 15 minutes long. I wanted the conversations in the footage to make a lasting impression, even if the viewers had to rush through the installation and spend only about a minute per video.
The original footage featured many fascinating moments, but a majority of the interactions made no sense without context. So, considering the overall rhythm of the video, I added information at the top--for instance, the guest's or host's occupation and what they are doing in the video--to set the scene.

Yamashiro: Another thing came to my mind in the editing process. Take, for example, how we have been talking for around an hour. We have a "hunk" of a single hour behind us, but since each of us experienced this past hour differently, this "hunk" actually consists of four hours. In other words, within this one hour are four independent streams of time. "HOME STAY HOME" featured nearly 90 participants, which means there are over 90 independent "hunks" of hours.
Putting this into the context of COVID-19, whereas we used to be able to combine our individual experiences into a single body of time--like going to school or attending events--the time we have been spending these past two years is independent from one another.
Each of us has been going through a strange, uneventful period; a period during which we rarely meet others or keep records of our experiences. This, I think, is what our installation successfully showcases: snapshots of our lives during this pandemic.

--Is this the first time you presented your work during the novel coronavirus pandemic?

Noda: Yes. This was Nadegata's first exhibition in two and a half years, but we have been enjoying a good sense of accomplishment. I look forward to seeing how people interpret this installation down the road.

Nakazaki: It might take on a new meaning in a decade or two. I also hope this project leads to a continued relationship with the participants in some way.

Noda: And to make that happen, I'm hoping to arrange a screening party for the displayed footage, maybe around the time the exhibition closes.

Yamashiro: It would be nice to arrange a post-party meeting to speak with the hosts and others who helped our project.