The exhibit "In Marugame – At the Moment – Three Artist Collectives" runs from Saturday, December 18, 2021 through Monday, March 21, 2022 at the Marugame Genichiro-Inokuma Museum of Contemporary Art (MIMOCA). This is the first part of our interview with one of the featured artist groups, Nadegata Instant Party, consisting of Tohru Nakazaki, Daisuke Yamashiro, and Tomoko Noda.
We asked how their installation "HOME STAY HOME"—which documents a homestay project where Marugame residents virtually hosted guests from across Japan—came to be, and how they produced the installation amid the novel coronavirus pandemic.
Interviewed and written by Mio Subana
Photos by Shintaro Miyawaki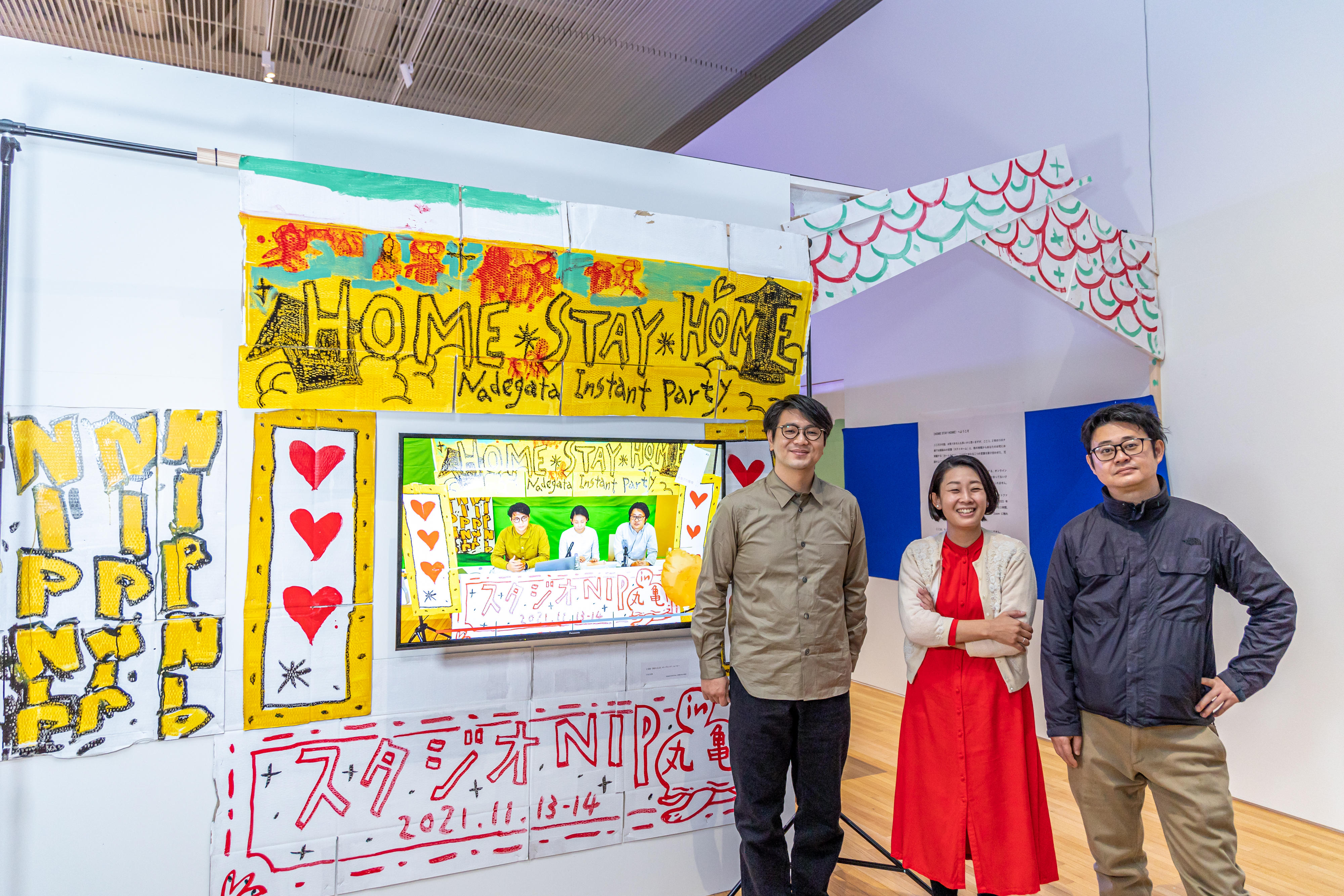 --Participating in your "HOME STAY HOME" installation has been a very exciting experience for me. I got to know two art students from Yamagata who joined the project as virtual guests, and around 20 Marugame community hosts including one from the town's shopping district and another who lives in Honjima. I'm very happy to have made new friends whom I can greet whenever I see them in the shopping district. Thank you for creating such an opportunity. Now, please tell me how the "Home Stay Home" project came into being.
Nakazaki: Since the three of us started collaborating in 2006, the Nadegata Instant Party's ("Nadegata") work has--as our name suggests--always dealt with how camaraderie and small communities develop spontaneously through loosely planned events and activities.
Our process begins by presenting a sometimes pretty absurd "pretext" that we use to ask for help from other people, and this leads to unexpected developments.
The "pretext" for one of our previous projects was making a movie or a 24-hour television show. But we were not actually trying to shoot a film or produce a TV program. Rather, we were fascinated by the events that unfolded as we pursued the goal we had set up, and documented those developments in our art installations.
For the MIMOCA exhibition, the "pretext" we conceived amid the coronavirus pandemic was to arrange virtual homestay events.

Noda: MIMOCA curator Mizuki Takezaki contacted us in early 2019 and shared her idea about an exhibit that closely focuses on the Marugame community.

--So that was before the pandemic. How has COVID-19 affected the project?

Nakazaki: We were doing research in Marugame before the pandemic started, but then an exhibition scheduled for October 2020 got postponed.
As the world shut down in 2020, space travel became a hot discussion topic among the three of us. You see, how to pass time in a confined space is a key issue to be considered when it comes to spaceships; it's about spending "alone time," but on a much bigger scale. Through exploring what people would do on a spacecraft, we ended up talking about space travel.
Then, while considering a concept that entailed a series of individual households in this pandemic world, we came up with the play on the words "stay at home" and "homestay."
This project title inspired the specific content of our installation. But we were unsure whether homestays were possible with the pandemic raging.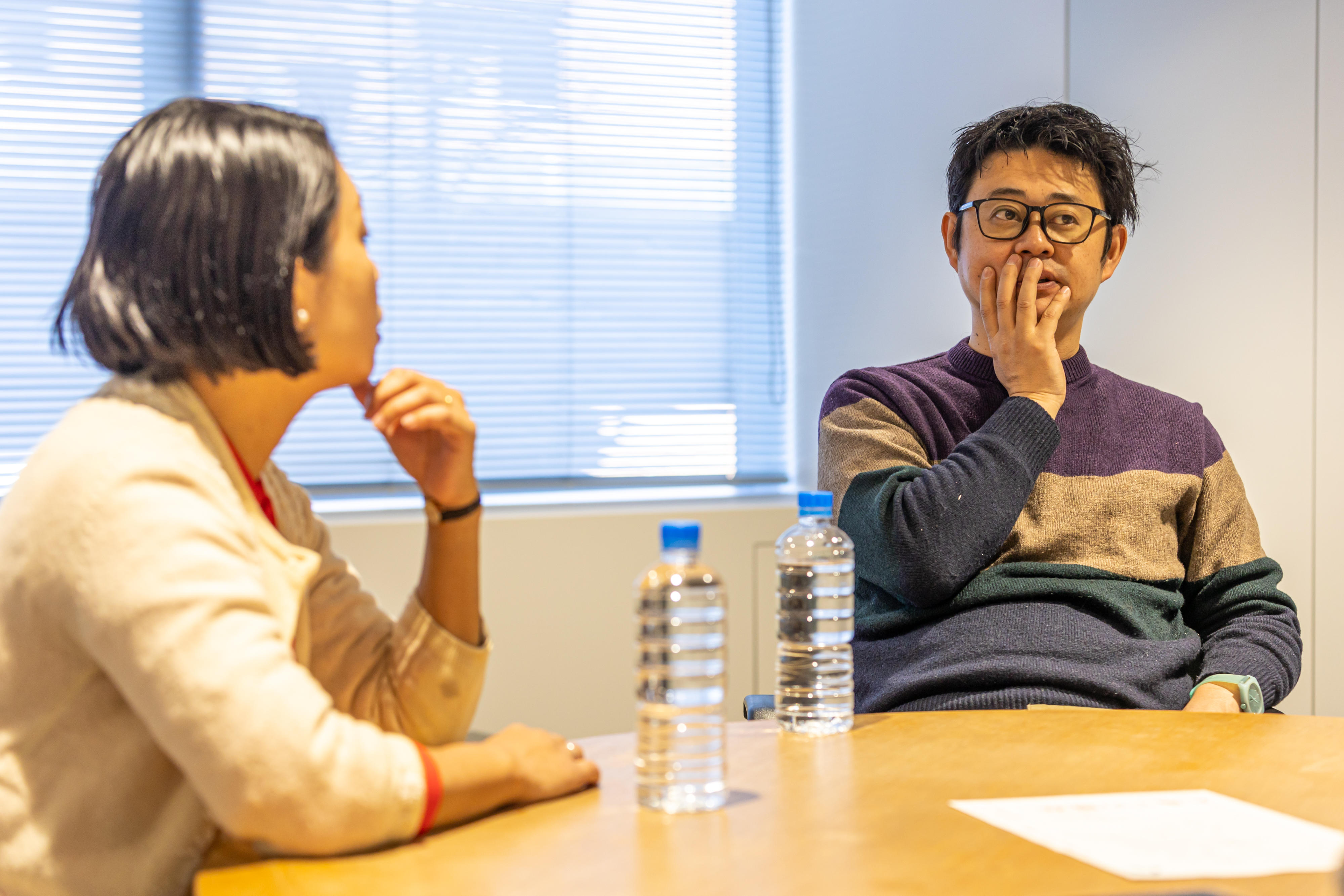 Pictured left: Tomoko Noda
Right: Tohru Nakazaki

Noda: We initially wanted the homestay guests to actually come to Marugame. But because of the uncertainty surrounding COVID-19, around the summer of 2021 we decided to do the homestay virtually. We thought moving the project online might make it even more interesting.

--You had to find the homestay hosts in Marugame after that, right?

Noda: We had no connection in Marugame, so Takezaki searched for hosts on our behalf. We then held an orientation session for them online since travel restrictions were in place, but had a hard time getting our message across to the participants.
So about a week before closing the call for hosts, we held an in-person session at Marutasu, Marugame City Civic Center. Around 40 people attended this meeting.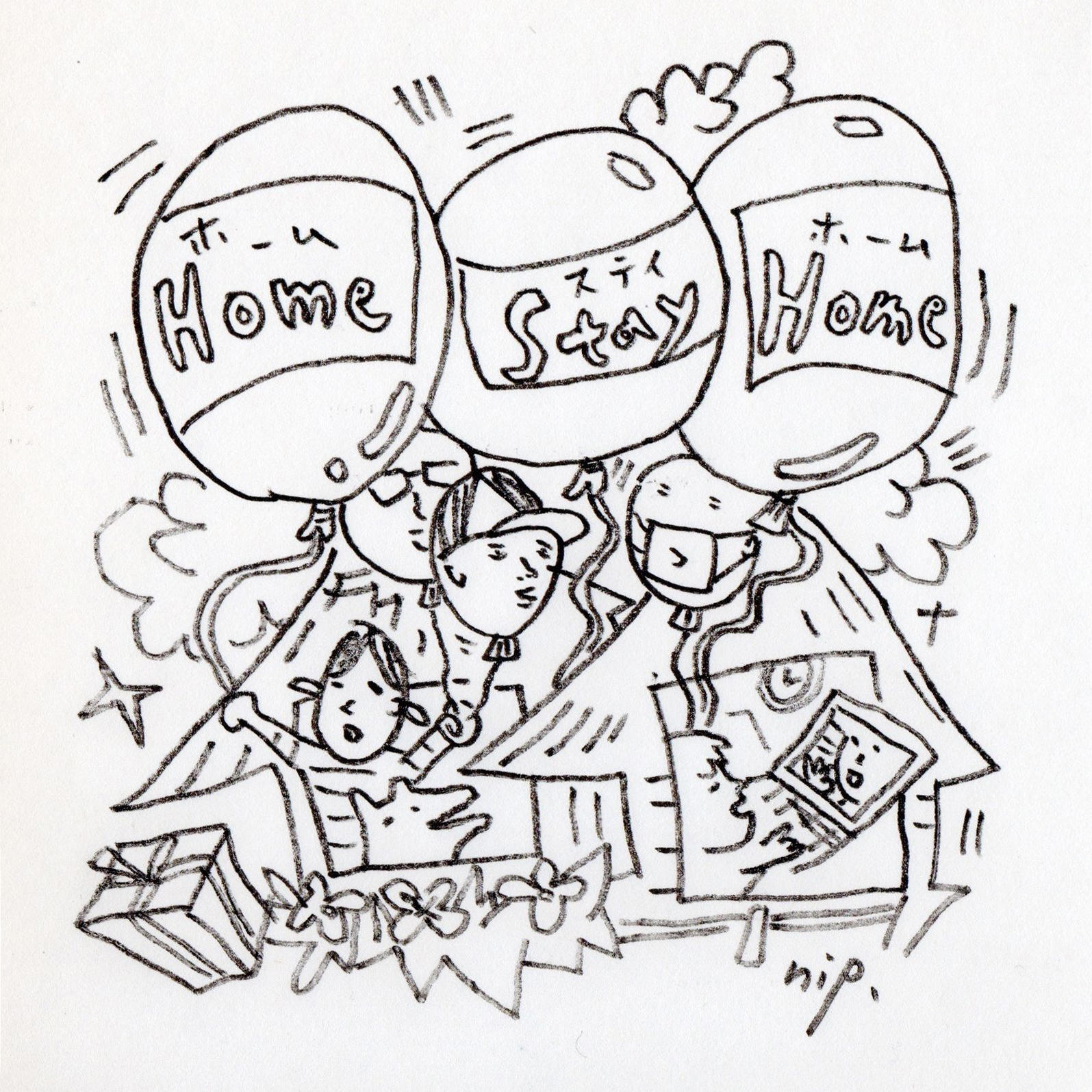 Drawing for Nadegata Instant Party's "HOME STAY HOME" (2021)



--I saw your flyer calling for homestay hosts in the Marugame shopping district. Did any people participate after seeing the ads?

Noda: Yes, several people did. I vividly remember how among them was an older woman who said she had never used Zoom before but wanted to learn how to use it--as so many people were communicating through the platform--and was hoping to make new friends around her age.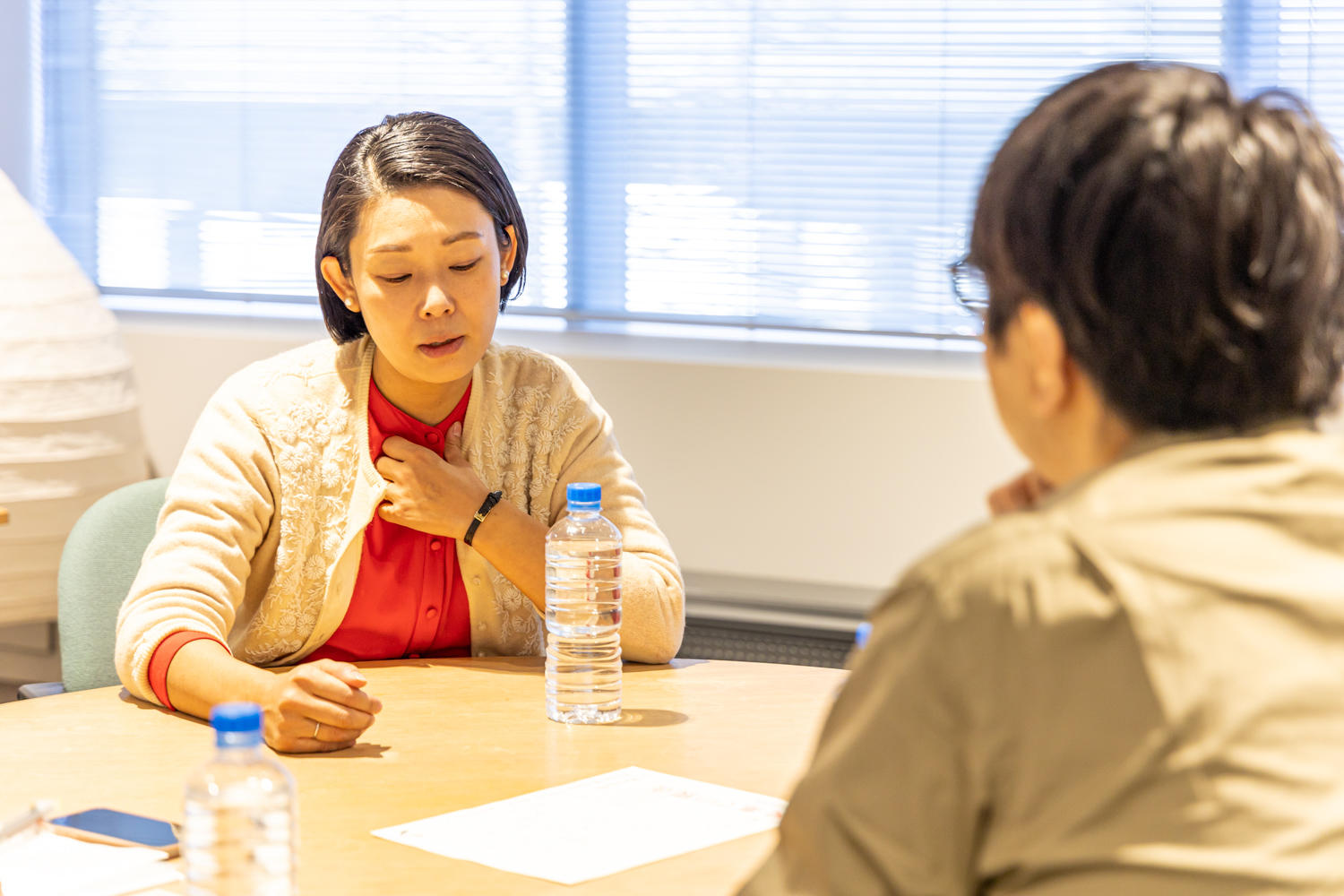 Tomoko Noda

Nakazaki: For our previous projects, we had held our orientation sessions in person. We would go for a drink or coffee after the meetings and speak with each person, which would in turn reassure them and spark further interest in our project. They would then bring their friends to our second session. I know this may be an old-school approach, but directly connecting with people was an important way to gain participants.

But because of COVID-19, we had no extra time for casual conversations and could not gauge how the hosts were feeling. I had a hard time figuring out how to handle the distance factors.

(Continued to Part 2)