At Marugame Genichiro-Inokuma Museum of Contemporary Art (MIMOCA), the exhibition "The Window: A Journey of Art and Architecture through Windows" is being held from October 13 (Tuesday), 2020 to January 11 (Monday, national holiday), 2021. Among exhibition participants is the Xijing Men, a project-based collaborative team of a Japanese, a Chinese, and a Korean. The MIMOCA magazine presents in two parts an interview with one of its members, Tsuyoshi Ozawa. He talks about the Xijing Men team and its work shown in the exhibition.

Interviewer and text: Chisai Fujita, art writer
Photography: Shintaro Miyawaki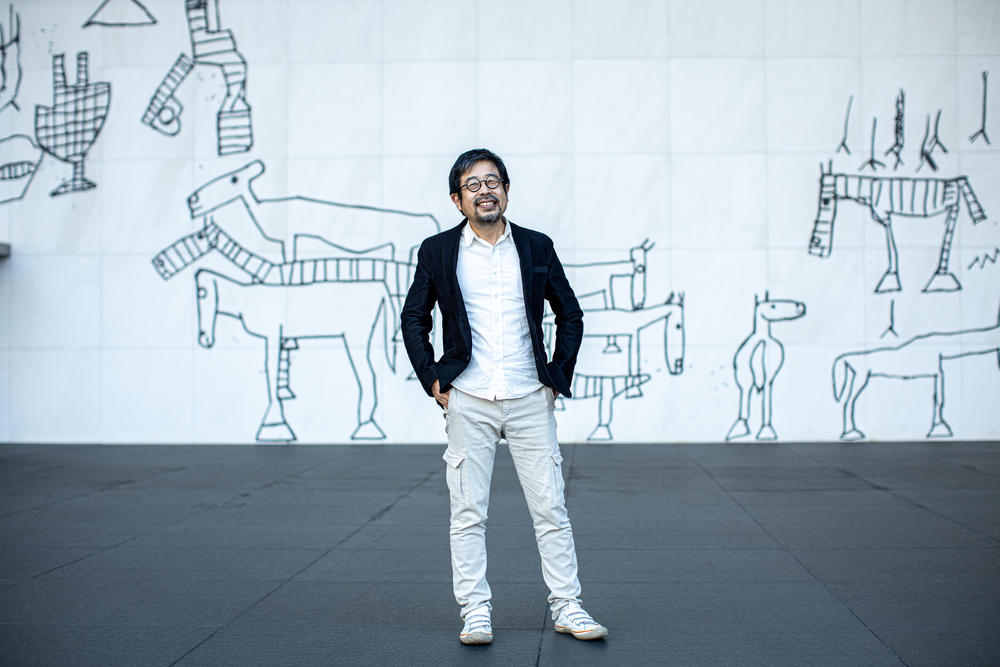 Tsuyoshi Ozawa in front of the mural Creation Plaza, MIMOCA

The exhibition, as its title suggests, shows works created on the theme of the window, works with a frame or monitor that looks like a window, and works dealing with what is inside and/or outside a window. You can enjoy window-related works from various angles. Thinking that way, I was progressing through the exhibition when I came across an installation that made me wonder, "What! An airport check-in counter?" Yes, that was the Xijing Men's work Chapter 3: Welcome to Xijing--Xijing Immigration Service.

Fujita: Nice to see you, Mr. Ozawa. You are quite active as an individual artist, too, but you participate in "The Window: A Journey of Art and Architecture through Windows" as a member of the Xijing Men. Could you first tell us: What is Xijing Men?

Ozawa: It is composed of three artists--myself from Japan, Chen Shaoxiong from China, and Gimhongsok from Korea. The team creates works like imaginary countries.

Fujita: Japan, China, and Korea! How did you artists from different countries come to know one another?

Ozawa: In the 1990s there was a sharp increase in the number of international exhibitions held in Asia. We got acquainted as we found ourselves among those who regularly showed their work at such international venues in various countries.
In 2005, when I was to take part in the Second Guangzhou Triennial, China, one of its curators suggested that I collaborate with another artist, a researcher from a different field, or an architect. Just about that time, an exhibition titled "Follow me!: Chinese Art at the Threshold of the New Millennium" was held at the Mori Art Museum in Tokyo. At the opening I met Chen Shaoxiong, and when I told him about the curator's suggestion, he immediately responded, "Yes, let's collaborate!"

Fujita: I see. So then, you and Mr. Chen participated as a team in the Second Guangzhou Biennale, did you?

Ozawa: Yes. We presented an exchange-of-letters-like collaborative work and it was really good. I myself had seriously wanted to work face-to-face with an overseas artist to create a work of art, so it was a really interesting experience. For some time after that, we worked together. Gradually, however, we kind of hit a wall. We then came up with the idea that we could find a breakthrough if another artist joined us. We looked for someone we both knew, who belonged to our generation, and who was from a different country from ours. We chose Gimhongsok from Korea. Now a trio, we named ourselves "Xijing Men."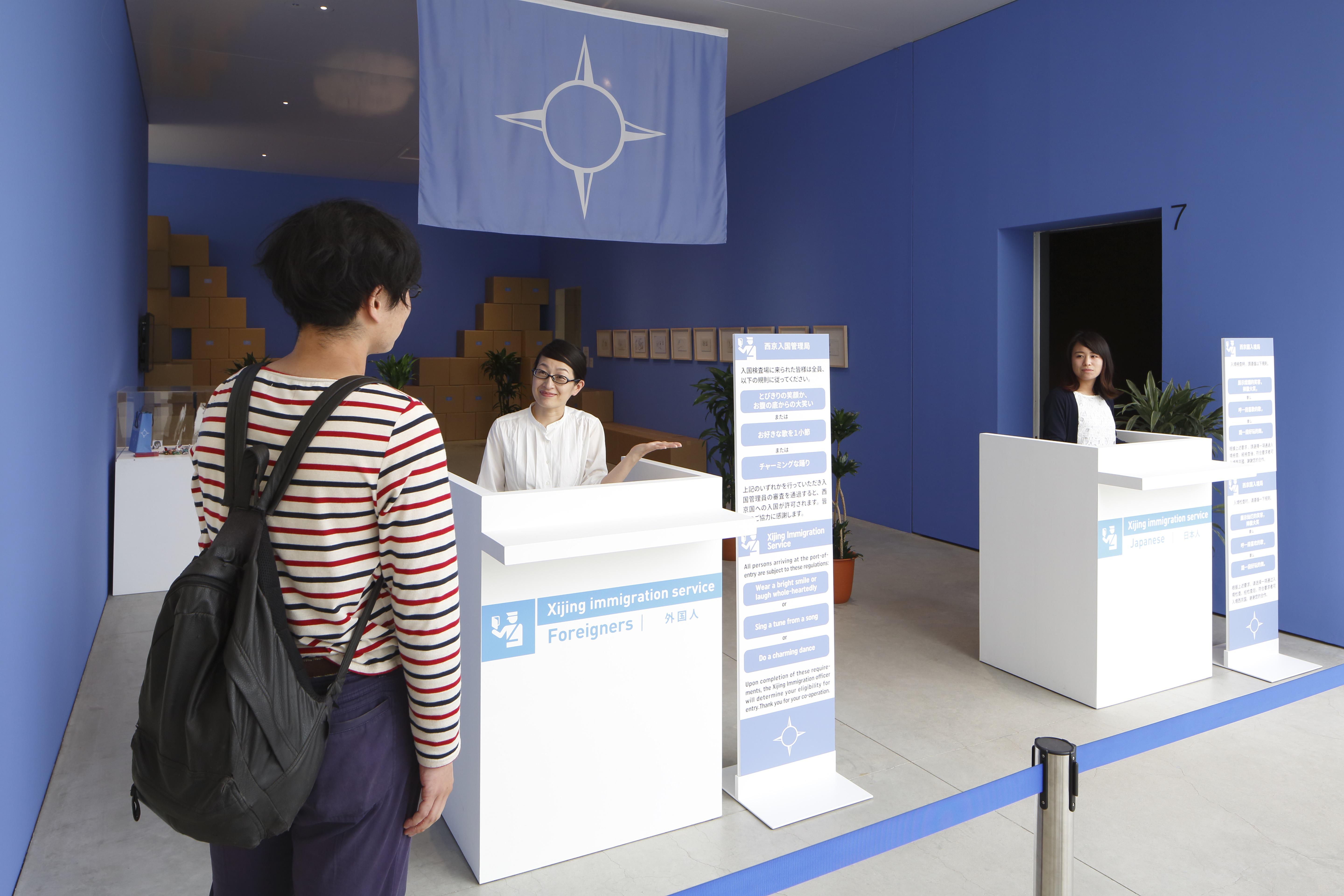 Xijing Men, Chapter 3: Welcome to Xijing--Xijing Immigration Service (2012)
Installation view: Xijing Men, "Xijing Is Not Xijing, Therefore Xijing Is Xijing," 2016, 21st Century Museum of Contemporary Art, Kanazawa
Photo: Keizo Kioku
Courtesy: 21st Century Museum of Contemporary Art, Kanazawa

Fujita: Did the Xijing Men produce a work for a particular exhibition? Or, did you three create joint works without being specifically requested?

Ozawa: Once or twice a year there would come an opportunity to show at a rather large exhibition, so we would create a work for such an occasion. There was no leader among us, just the three of us discussing ideas and then working together. That was our style. There was one period when there were no invitations to show in exhibitions and we decided to do something on our own and created a work to kind of fill the void.

Fujita: And in 2016, Mr. Chen became ill and died. Was that the end of new work by the Xijing Men?

Ozawa: We haven't been very active lately. But Chen left us with ideas and hints he developed during the fight against his illness. We already have produced some works based on them. The output of the Xijing Men is not over.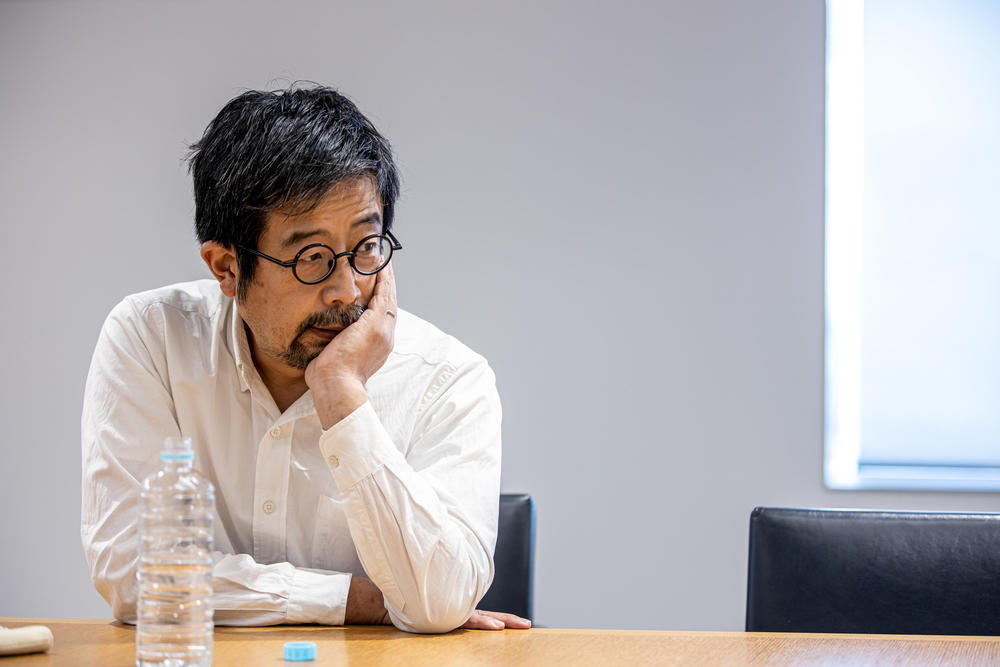 Tsuyoshi Ozawa

Fujita: Japan, China, and Korea have some sensitive issues in their relationships.

Ozawa: Not with artists. Our working together seemed all the more necessary because we are from these three countries. When our team started, we did say to one another that the group might be more or less affected by politics, knowing that there are various stresses among Japan, China, and Korea. We decided we would try our best to avoid politicizing our work, that we would start by endeavoring to keep away from political elements. No matter how hard we might try, of course, some degree of politicization was sure to show, but we figured that couldn't be helped.
As we proceeded that way, the differences between our countries, between our passports, gradually seemed to us to be a trivial matter. True, we were artists of different nationalities, but we were not representatives of our countries. What we were doing was not like a summit meeting between our countries' leaders. With the passage of time we came gradually to see our team as just a group of artists and appreciate our deep friendship and sincere person-to-person interaction.
(To be continued in Part 2)




Reproduction of photos from within this post is prohibited.

---
◎Related Links
The Windows: A Journey of Art and Architecture through Windows